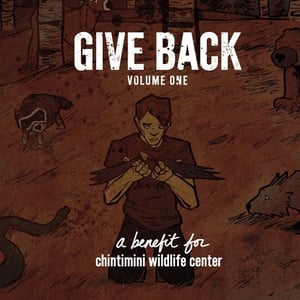 $

5.00
Benefit CD compilation for the Chintimini Wildlife Center in Corvallis, OR (chintiminiwildlife.org) - featuring 26 bands from all the over the United States (and one from Canada) - many tracks unreleased and/or specially recorded for this comp! Artwork & layout by Keith Rosson.
1. Abolitionist "Only Friend" (OR)*
2. Absent Minds "The Greatest Screen Name Ever" (OR)*
3. Almost People "Sorry, I Pissed My Parachute Pants" (NC)*
4. The Anchor "Pablo Goes Escobar" (TX)*
5. Bastards of Young "West Highway Run (acoustic)" (CA)*
6. Civil War Rust "You've Got A Friend" (CA)
7. Company "So Easy" (OR)*
8. Counterpunch "Blue Skies" (IL)*
9. Crusades "Becky (Welkin at Dusk remix)" (CAN)*
10. Danger Death Ray "Bobby Kennedy, We Miss You Dearly)" (OR)*
11. DC Fallout "Poverty Blind" (CA)
12. Elway "Passing Days (acoustic)" (CO)*
13. Fellow Project "Horse of the Year" (NY)
14. 48 Thrills "Winter Is Coming" (OR)*
15. French Exit "Wicker Park" (CA)*
16. Great Apes "Sam's Song" (CA)*
17. Gunner's Daughter "Dead On" (IL)*
18. Hopewrecker "Planet of the Year" (CA)*
19. Know Your Saints "In Its Place Was Your Reflection" (CA)
20. The Mighty Fine "Deep Water Sound" (CA)*
21. Rations "All Gone (alt. mix)" (NY)*
22. Rev. Loose Morals "Jesse James" (OR)*
23. The Shell Corporation "Fuck 'em" (CA)
24. Signals Midwest "Call The Amberlamps" (OH)
25. Thanks "SOOONG (demo version)" (MN)*
26. Tuck & Roll "It's The Climate" (OR)*
*unreleased
AVAILABLE NOW!